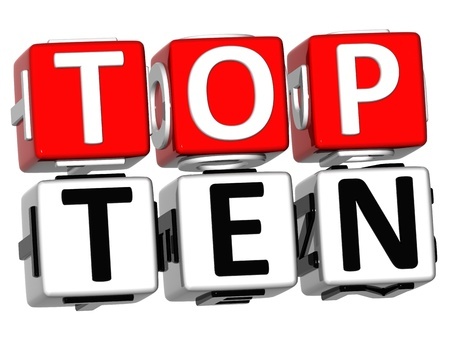 The practice of law has become specialized, and a jack of all trades typically is a master of none.  Judge Silberman of the United States Court of Appeals for the District of Columbia warns, "Effective presentation to a federal court of appeals, or to any court of appeals, requires a blend of talents not necessarily found in a typical trial attorney." L. Silberman, Plain Talk on Appellate Advocacy, 20 Litigation 3 (1994).
When they venture into the appellate world, trial attorneys often make mistakes.  Lots of them.  Here is my list of "top ten" appellate mistakes:
1.  Filing a Motion for Reconsideration from an adverse final order.
In Pennsylvania, unlike other jurisdictions, filing a motion for reconsideration does not toll the time for the filing of a Notice of Appeal.  Yet over the years, I have often seen even prominent attorneys who should know better file motions for reconsideration, assuming that doing so relieves them of the duty to file a Notice of Appeal within 30 days after the entry of the adverse order.  It does not.  Pennsylvania law is clear that one must file a Notice of Appeal within 30 days of the order from which one appeals.  Pa.R.A.P. 903. Filing a motion for reconsideration does not toll the 30-day period unless the trial judge "expressly grant[s] reconsideration" under Pa.R.A.P. 1701(b)(3) within the appeal period.  See: Sidkoff, Pincus, Greenberg & Green, P.C. v. Pennsylvania Nat'l Mut. Casualty Ins. Co., 555 A.2d 1284, 1287 (Pa. 1989); Merrick Estate, 247 A.2d 786 (Pa. 1968) ("The refusal of a court to reconsider, rehear or permit reargument of a final decree is not reviewable on appeal.")
2.  Neglecting to file post-trial motions.
Most trial attorneys recognize the necessity of filing post-trial motions after jury trials.  Many, however, neglect to do so after bench trials. Rules 227.1 through 227.4 of the Pennsylvania Rules of Civil Procedure unequivocally require a party who wishes to appeal to file post-trial motions with the trial court within ten days after "the filing of the decision or adjudication in the case of a trial without jury or equity trial." Pa.R.C.P. 227.1(c)(2).  See: Motorists Mut. Ins. Co. v. Pinkerton, 574Pa. 333, 341, 830 A.2d 958 (Pa. 2003).
Many an appeal has been quashed because the trial attorney neglected to take this step.
3.  Failing to ensure that the record is complete.
One of the peculiarities of Pennsylvania appellate practice is the responsibility of the attorney presenting the appeal to ensure that the appellate record contain all items needed for appellate review.  This is often a vexing requirement because the trial court prothonotary actually collects the documents and exhibits and transmits them to the appellate court.  Crucial documents are often missing.  Although the trial court prothonotary is required to issue an inventory, it is often inaccurate. At times, one must examine the actual record to ensure that missing items be included.
4.  Failing to cite to the record.
The Pennsylvania Rules of Appellate Procedure require that a statement of facts contain citations to the record.  Pa.R.A.P. 2117 and 2132.  It is best to have pinpoint citations to the reproduced record; the judges rarely consult the actual record of the court.  Judges know that attorneys frequently misstate, so a brief that repeatedly alleges facts without such citations will instantly come under suspicion.  The best way to curry favor with someone who is reading your brief is to assure him that everything you say is true.  And the best way to assure him is to indicate where in the record he may find references to the facts you advance.
Otherwise, you will lose credibility early, and he may never read your arguments.
5.  Witness-by-witness statement of facts.
Many statements of facts are nothing other than summaries of a trial, witness by witness.  After years of poring over summaries, the Pennsylvania Rules of Appellate Procedure were amended to require "a chronological statement, in narrative form of all the facts which are necessary to be known in order to determine the points in controversy . . ." Pa. R.A.P. 2117 (Emphasis added).
Many attorneys continue to serve up witness-by-witness summaries of the trial with little attempt to synthesize the facts and make them accessible to those who are reading the briefs.
6.  Statements of fact containing argument.
The Pennsylvania Rules of Appellate Procedure proscribe argument in a statement of facts.  They provide that the "statement of the case shall not contain any argument" and that counsel should "present in the statement of the case a balanced presentation of the history of the proceedings and the respective contentions of the parties." Pa. R.A.P. 2117 (Emphasis added).The Superior Court has on occasion chided counsel for "pervasive violation of this rule."  Helpin v. Trs. of the Univ. of Pa., 969 A.2d 601, 608 (Pa. Super. 2009).
7.  Raising too many issues, including many of no concern to appellate judges.
More is not better. Trial counsel too often feel that abandoning issues on appeal is like drowning their children. Most appellate judges will assume that if you raise ten to twelve issues, all are without merit.  See: United States v. Hart, 693 F.2d 286 (3d Cir. 1982) and Nigro v. Remington Arms Company, 637 A.2d 983 (Pa. Super. 1993). An appellate brief in a civil case should raise no more than three or four issues.
A key appellate talent is recognizing the issues that have a realistic chance of securing appellate relief. Many lawyers assume that appellate judges are like poisonous snakes, coiled and ready to strike the moment they sense a trial error.  Nothing could be further from the truth.  They generally don't care about trial errors.  Until they do.
8. Long Briefs; Bad Briefs
Not every long brief is a bad brief. But most are. There are times when a complex case may require a brief approaching the page limits. They are the exception.
9. Waiver.
Perhaps the most frustrating aspect of practicing before the Pennsylvania Superior Court is its application of the doctrine of waiver. Or should I say "over-application."  An article published over a year ago quoted several Pennsylvania appellate attorneys to the effect that the Superior Court invokes waiver "whenever it seems available" and that it is the "exit of choice for appellate judges." Ben Present, Is Waiver Being Fairly Applied to Pennsylvania Appeals?, Pennsylvania Law Weekly, Vol. XXXVI No. 17, April 23, 2013.
Judge Strassburger of the Superior Court quoted the article in a dissent in an unpublished opinion in Wos v. Select Specialty Hospital, 284 WDA 2013 (Pa. Super. March 7, 2014). In a dissenting opinion in another case, Judge Lazarus faulted her colleagues for holding that an appellant had not identified his argument with sufficient specificity below and had, therefore, waived it. Gabiga v. Marshall, 2032 EDA 2013 (May 27, 2014).
What to do?  An appellate attorney must anticipate any waiver argument by noting each place in the record where the argument was made and then, to the extent possible, structuring the appellate argument in such a manner as to avoid a challenge that the issue was waived.
10. Failing to tell judges why they should care.
The simple truth of advocacy is that courts follow their own precedent only when they care to do so. If a court doesn't like your client, your case or even you, it will ignore your arguments, no matter how compelling. This fact should force you to consider how to make the court want to follow its precedents or, if the law is against you, ignore them.
In the words of the Seventh Circuit, "Where possible, the emphasis should be on reason, not merely on precedent, unless a particular decision is controlling. A few good cases on point, with a sufficient discussion of their facts to show how they are relevant, are preferred over a profusion of citations." Practitioner's Handbook for Appeals to the United States Court of Appeals for the Seventh Circuit, § XXII (2014 Edition) (Emphasis added). In the words of one commentator, "What this means, of course, is that judges, especially appellate judges, will do what they damn well please." Ralph Adam Fine, The "How-To-Win" Appeal Manual, p. 1 (2000). To do this, you should invite the court to look at the bigger picture.
The moral of this story is clear.  Don't go it alone.  Consult with and employ the services of an experienced appellate attorney.